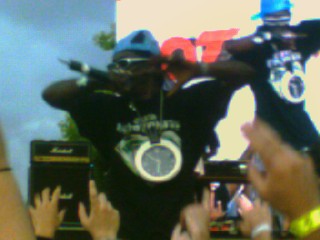 YEEEEEEEEEEEEEEEEEEEAH BOYEEEEEEEEE!!!!
Yup, I went to the exclusive inner city concert called
Music Midtown
in the ATL. Well I can only say that there were only three acts that I wanted to see. They were Common, Slick Rick & Doug E. Fresh, and Public Enemy. I was not disappointed. We talked to my friend Dan K. from Winder Georgia before the concert. He was abrupt, strong, and pungent. He made me feel better about our Saturday expedition. You see, none of my good friends in ATL really listen to hip hop. Sure, they know T.I., Ludacris, Outkast, and so on, but no one, not even my brother, had heard of Common (Sense). They have no idea what they missed. I had my own personal Dan K. at the show as well as a flask of J.D. I needed no one else. In fact, if anyone else had been with me, it would have ruined the times. Common played my 2 favorite tracks by him first (Resurrection and I Used to Love Her). What came next was completely unexpected. Kanye West came out. The name is Kanye but most of his plastic still reads Kane. He was on for an hour with Common. At some point I blacked out. Parts of Tom Petty were mixed in with some John Fogerty. I ended up leaving the show with no reason whatsoever except I thought everyone had left me (even though every stage was still going on). I walked around for an hour and ended up having some donuts with some cops at Krispy Kreme on Ponce de Leon (soomeone back me up...you have to be there to know how good they are when pulled off the conveyor belt). I ended up at my house after going to my buddy's for some Freschetta and Nathan's hot dogs with sweet pickle relish. They dropped me off at home before they went to Waffle House. They have the appetites of savages whe drinking.
Woke up...pretty good. Walked the dog with my lady and she made me a sammich. I was ready to go again. This was the day I was waiting for.
There were 2 acts I wanted to see on this day. The first was really 2 acts. You'd really probably have to know the history, but I was dying to see Slick Rick and Doug E. Fresh on stage together. They did it all. I won't go throught it...
ok...
The Show
Childrens Story
The Ruler's Back
Mona Lisa
La Di Da Di
It was off the hook. My friends that came to this show thought I was honest to god crazy. Rick was dressed in full regalia. As Doug said, he "invented bling bling before bling bling was called bling bling."
It's true.
Public Enemy...
I saw them in 1993 with my brother. I cried at that time. I almost did this time. As soon as they came out...
BASS! HOW LOW CAN YOU GO? DEATH ROW? WHAT A BROTHER KNOW? ONCE AGAIN BACK IS THE INCREDIBLE, RHYME ANIMAL, THE UN-CANNABLE D!
PUBLIC ENEMY NUMBER ONE! 5-0 SAID FREEZE, BUT I GOT NONE. CAN I TELL THEM THAT I REALLY NEVER HAD A GUN, BUT IT'S THE WAX THAT THE TERMINATOR X SPUN...
Damn.
There Chuck and Flava were on stage with the ATLanta skyline in the background. It was like they were 21 again. EVERYONE in the crowd was losing their shit. Terminator X was not there. He had moved on.
Professor Griff
? In effect. The S1W's? Of course. They were marching across stage with Samurai Swords ready to hack people's heads off. This was it. This was Public Enemy. This was the group that influenced me more that any other group since or before. This was worth my $75 alone.
Public Enemy, IN FULL EFFECT.
GO GET A LATE PASS...
STEP!

Footnote: There is nothing on the web about what happened to Terminator X. Everytime they started hyping up the new DJ, I threw my arms up in an "X". When the line in "Bring tha Noize" came up: "ever for ever/universally it will sell/time for me to exit/Terminator X it...TURN IT UP..."
They all put their arms up in an "X".
Someone find out for me.
Josh Gilbert had a blunt there...